Attends Discreet Male Guards
Attends Discreet Male Guards are pads for men that are ideal for addressing light to moderate bladder leakage. The unique cup-shaped design of these men's incontinence pads provides discreetness when used in regular underwear or boxer briefs. The full-length adhesive strip helps this incontinence pad for men stay securely in place, and the odor shield aids in eliminating embarrassing moments. The Attends Discreet Male Guards are incontinence pads for men that offer improved leak protection with elastic leg gathers. Each Attends Discreet Male Guards is individually wrapped for discretion.

Attends Discreet Male Guards Availability:Shipments usually take 3-5 business days to deliver for orders received before 12:00 PM EST Mon-Fri. Orders placed after 12:00 PM EST and over the weekends could take longer. Shipping delays can be affected due to weather, backorders, holidays, or inaccurate shipping information. At this time, all sales are final and returns are suspended.
As Low As:
Price: $6.99
---
Item #
Size
Package Options
ADMG20
12.5"

Sold 120 per case - $50.00 $41.67 (20% OFF)
Automatic Delivery Price: $39.59

ADMG20B
12.5"

Sold 16 per bag - $8.39 $6.99 (20% OFF)
Automatic Delivery Price: $6.64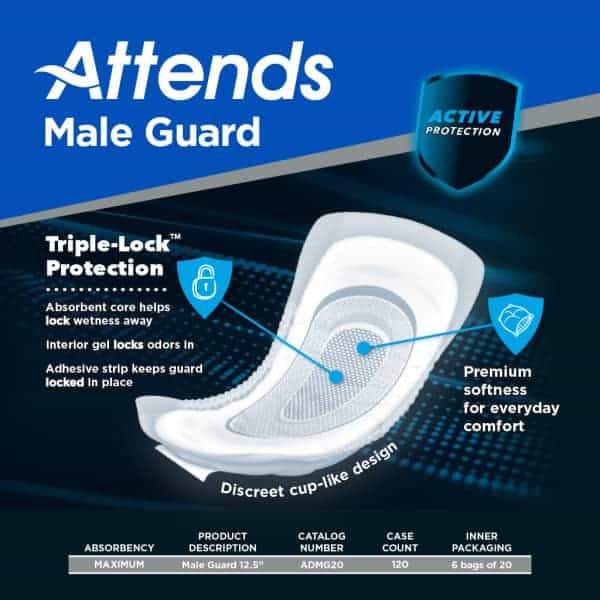 The Attends Discreet Male Guards feature a discreet cup-like design
Maximum absorbency
Active protection
Triple-Lock™ Protection: The absorbent core of these incontinence pads for men helps lock wetness away, the interior gel locks odors in, and the adhesive strip keeps the guard locked in place
Premium softness for everyday comfort
These Attends pads for men are individually wrapped