Attends Bariatric Pull-On Underwear
Attends Bariatric Pull-On Underwear address the growing need for a brief designed specifically for obese individuals whose weight can cause excessive pressure on the bladder, resulting in heavy to severe incontinence. Attends designed their Bariatric Briefs with flexible, soft static wings and extra-wide secure tabs to provide a secure, individualized, and comfortable fit. The dual-core absorbent layer promotes dryness and healthy skin, especially important to prevent skin irritation in individuals who are sedentary for extended periods. The Attends Bariatric Pull-On Underwear is made of a soft, cloth-like fabric and breathable zones that allow sweat and moisture to evaporate, further promoting dryness and skin wellness. The barrier leg cuffs provide additional leakage protection, and odor-blocking properties ensure confidence and dignity.

Attends Bariatric Pull-On Underwear Availability:Shipments usually take 3-5 business days to deliver for orders received before 12:00 PM EST Mon-Fri. Orders placed after 12:00 PM EST and over the weekends could take longer. Shipping delays can be affected due to weather, backorders, holidays, or inaccurate shipping information. At this time, all sales are final and returns are suspended.
As Low As:
Price: $20.75
---
Item #
Size
Package Options
AU50
XX-Large (68" to 80" Waist)

Sold 48 per case - $66.15 $63.00
Automatic Delivery Price: $59.85

AU50B
XX-Large (68" to 80" Waist)

Sold 12 per bag - $21.79 $20.75
Automatic Delivery Price: $19.71

AU60
3X-Large (74" to 92" Waist)

Sold 40 per case - $148.95 $141.86
Automatic Delivery Price: $134.77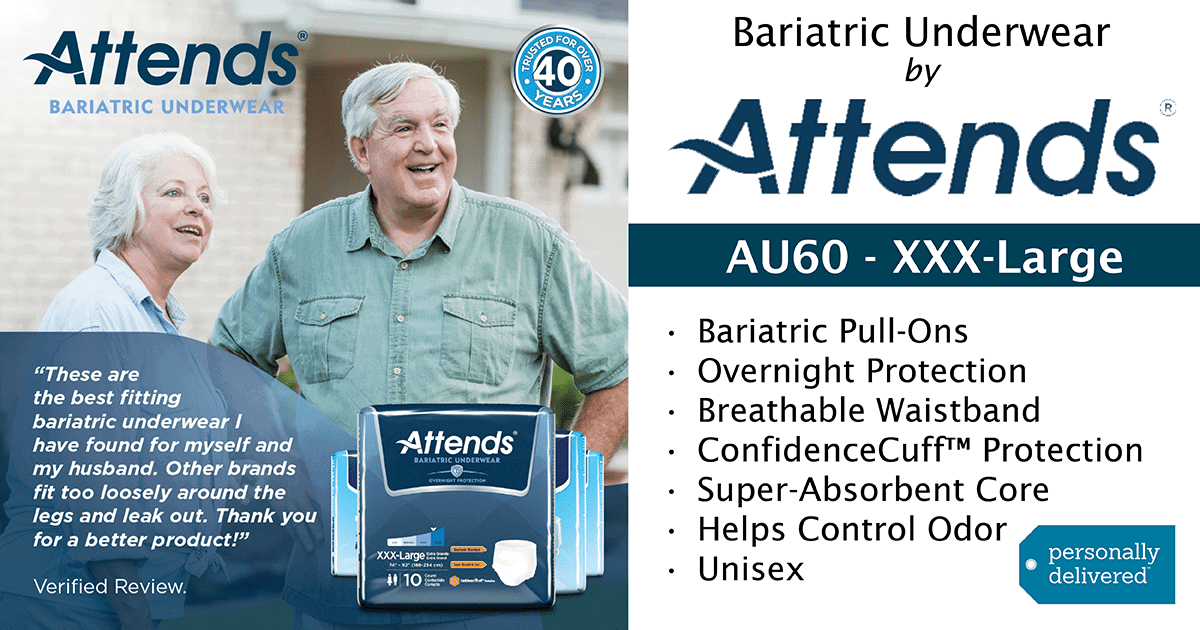 The Attends Bariatric Pull-On Underwear have improved side panels that are soft and stretchy and allow for optimal breathability
Shaped design with an elastic waistband for comfortable contoured fit
Barrier leg cuffs for added leakage protection
Soft cloth-like breathable fabric
Tear-away side panels for fast and easy removal