Pads for Fecal Incontinence - Personally Delivered
Fecal Incontinence Pads
What are Fecal Pads or Incontinence Pads for Bowels?
Fecal incontinence pads or pads for leaky bowels are designed for those who suffer from Accidental Bowel Leakage (ABL) and are looking for a bowel leakage product that absorbs fluids and odors while being discreet. Many people are unaware of the availability of fecal incontinence pads and resort to using a regular bladder pad for bowel incontinence protection. Those with fecal incontinence require a disposable bowel leakage product, as using washable products is not an option. Pads for fecal incontinence or incontinence pads for bowels are specifically shaped to fit in and around the buttocks and are designed to absorb liquids and hold the stool in place. These bowel incontinence products are less absorbent than traditional incontinence pads, therefore holding less fluid.
What Might Cause the Need for a Fecal Pad?
Accidental Bowel Leakage is more common than you might think. It is not considered a medical condition that needs serious attention from a medical practitioner. However, it is a condition that can seriously interfere with one's daily lifestyle. Some of the causes that you might need to use bowel incontinence products such as pads for fecal incontinence are:
Menopause
Nerve damage from medical conditions such as diabetes, multiple sclerosis, etc.
Hemorrhoids
Pelvic floor damage from childbirth
Crohn's disease or ulcerative colitis
Prostate issues
Irritable Bowel Syndrome (IBS)
Choosing the Correct Fecal Incontinence Product
Accidental Bowel Leakage can range from light to severe. If you ask yourself, "What should I wear for bowel incontinence?" depending on your specific needs, you will need to consider incontinence pads for fecal incontinence or other bowel leakage product options.
Severe Fecal Incontinence
If you suffer from extreme fecal incontinence, you might want to consider overnight disposable underwear such as the Tranquility Select Overnight Disposable Underwear. This incontinence product is made of superabsorbent polymers that help protect against skin breakdown while keeping you dry and protected. Another option could be the Prevail Air Overnight Heavy Absorbency Brief. This incontinence brief features side panels for a leak-free stretchable fit and is made of 100% breathable material to quickly evaporate heat and humidity. Take a look at all of the other options for heavy fecal incontinence here.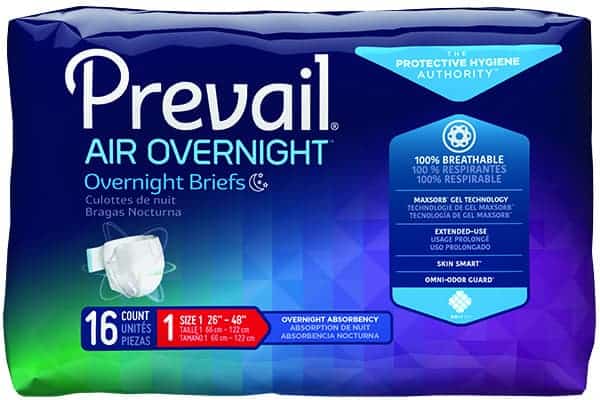 Moderate Fecal Incontinence
For moderate bowel leakage, the Abena Abri-San Premium Shaped Pads are pads for fecal incontinence that work well and are designed to be more discreet than the belted undergarment options. These are wider at the rear and offer more bowel incontinence protection where it is needed. A discreet, unisex option for moderate bowel incontinence is the Tranquility Select Personal Care Pad. These incontinence pads for bowels have a contoured shape to conform to the natural curves of both men and women for maximum comfort.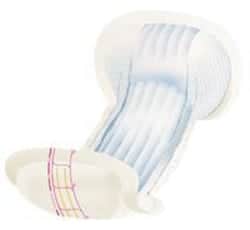 Light to Moderate Fecal Incontinence
A great choice for light to moderate fecal incontinence is the McKesson Pad. These pads are excellent for fecal incontinence and can help those with Accidental Bowel Leakage (ABL) manage their condition and maintain their lifestyle. The non-woven outer fabric and inner cellulose tissue are highly absorbent, offering protection and confidence. McKesson pads for bowel leakage are a simple and effective solution that features sealed edges to prevent leaking and superior absorption with virtually no linting. This fecal incontinence pad for bowel leakage may be the perfect solution to helping you return to your normal routine and feel comfortable dealing with minor bowel leakage.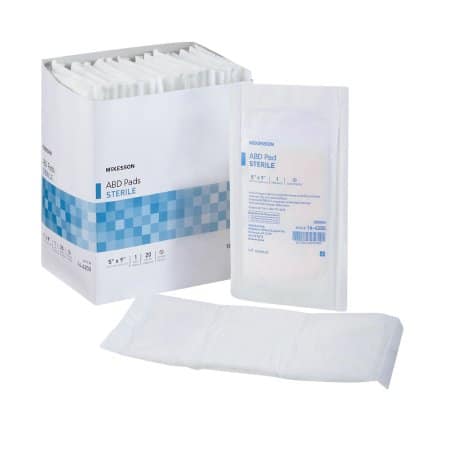 As you decide which fecal incontinence product is right for you, here are a few things to keep in mind:
Latex Allergy

: If you have an allergy to certain types of materials, such as latex, make sure you read about what the product is made of before you experience a skin irritation, which could worsen the condition.

Absorbency Level

: Make sure you choose the right absorbency level. Incontinence pads for bowels that is for light bowel leakage will not be sufficient for someone with heavy bowel incontinence.

Odor Control

: Look for a product that has odor control. When odors are neutralized, you are more apt to confidently get through your day without embarrassing odors.

Proper Fit

: Choose a product that securely fits and will absorb all leakage. A poorly fitting incontinence product will not contain the fluids, and you'll risk leaking out of the product and soiling your clothing.

Added Protection

: It might be a good idea to also keep in mind that you may want to protect your bed or any other surfaces with an underpad.
If you ask yourself, "What should I wear for bowel incontinence?" you have come to the right place. We offer a wide range of incontinence pads that can help you no matter the severity of your bowel leakage. If you would like help choosing which bowel incontinence products or pads for fecal incontinence that you require, please give us a call, and one of our Product Experts will assist in narrowing down what's right for your needs. We are just a phone call away and will ensure your bowel incontinence products are delivered discreetly to your door.