Butterfly Body Patches by Attends
Butterfly Body Patches by Attends create secure protection for light or moderate bowel leakage. This product provides odor shield with a discreet presence. These patches provide a simple solution for those that experience minor bowel leakage or continuously soil their underwear. The Butterfly body patch sticks securely to the skin and is painless to remove. The core is 2 times more absorbent than similar products and works to trap moisture and neutralize odor.
Related Products:
Overnight Bladder Pads & Diapers

Availability: Shipments usually take 3-4 business days to deliver for orders received before 12:00 PM EST Mon-Fri. *COVID-19 has impacted timely shipment and delivery of orders. We appreciate your patience and suggest allowing ample time when ordering your supplies.
---
Item #
Size
Package Options
PD44985
Small/Medium (Unisex)

Sold 28 per pack - $14.70 $14.00
Sold 672 per case - $352.80 $336.00

PD44986
Large/X-Large (Unisex)

Sold 672 per case - $352.80 $336.00

FAQs About the Butterfly Patch
Is the Butterfly Patch Applied to Underwear?
The Butterfly Body Patch is not applied to the underwear. It is simply tucked between the cheeks of the rear with the absorbent core faced toward the anus. Minor bowel leaks are absorbed at this point and odors are then neutralized. Getting used to the Butterfly Body Patch being adhered to the skin on this area of the body may take a little time. However, it is most effective and less likely to bunch up or move around when placed correctly and securely on this part of the body.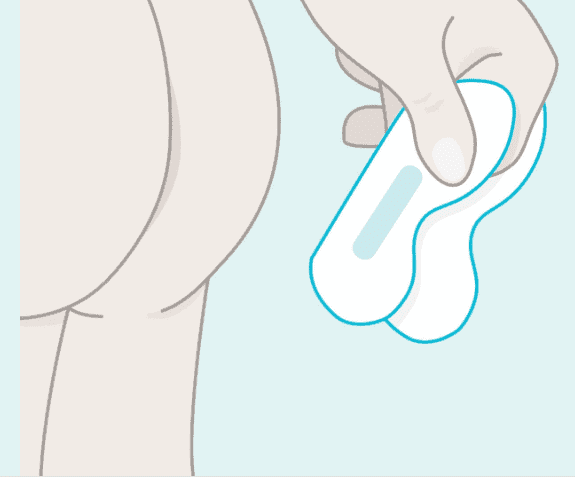 Are Butterfly Patches Flushable?
Butterfly Body Patches are not meant to be flushed down the toilet as they are not septic-safe. Disposal of the Butterfly Body Patch should be in a trash receptacle.
How Do I Keep the Butterfly Patch Dry When I Urinate?
This concern is meant for women, as men will not experience this difficulty due to the nature of their anatomy. In order for a woman to keep the Butterfly Body Patch dry when you using the restroom, there are a couple of options. First, make sure that the patch is placed correctly on the rear. The longer wings will face upward toward the spine, keeping the body patch out of the way of urine flow. If that doesn't work, you can either try a smaller size or simply remove the patch when you use the restroom.
More information about managing fecal incontinence and other product choices can be found on our Fecal Incontinence Pads page. If you have any other questions or need assistance choosing the right fecal incontinence product for your needs, our Personally Delivered Product Experts are here to help.