Coloplast Products and Supplies
For over 60 years, Coloplast has been developing products and supplies for people with personal healthcare needs, helping to make life easier. Their products span across Ostomy Care, Continence Care, Wound & Skin Care, as well as Urology Care. 
Take a look at the product categories below to view just some of the Coloplast products and supplies Personally Delivered offers. Feel free to contact one of our Product Experts today with any questions or to help you with your specific needs!
Our Featured Coloplast Items
Coloplast Product Categories
Changing lives, one person at a time.
Shop a wide selection of the best Coloplast catheters, ostomy supplies, skin care products, and more right here at Personally Delivered. One of our most popular Coloplast products is the SpeediCath Compact catheters for both men and women. These convenient, ready-to-use catheters are a more discreet, pocket-sized option for catheterizing on the go. SpeediCath Compact catheters have a hydrophilic coating and smooth polished eyelets to help minimize friction and maximize comfort.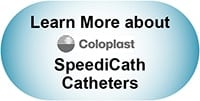 If you are looking for Coloplast ostomy supplies, the SenSura Mio Convex One-Piece Drainable Ostomy Pouch is a popular choice. With the elastic skin barrier that fits various body types and the full-circle integrated filter, there will be less ballooning and odors. We're ready to help you find the right products for your needs. Click the links above to see what is available.
---
"I have been extremely pleased with the service I have gotten over the year or more that I have been getting my extra 2 boxes of self-catheters each month." ~Nancy B., Customer