SpeediCath Catheters by Coloplast - Personally Delivered
SpeediCath Catheters by Coloplast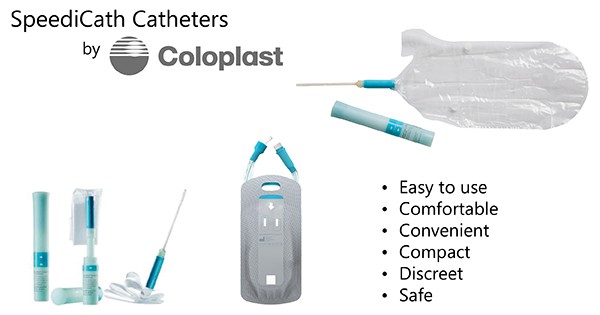 SpeediCath catheters by Coloplast are innovative solutions and compact designs for both men and women. The family of SpeediCath catheters are easy to use, convenient, and high-quality. Their hydrophilic coating and polished eyelets make them a comfortable choice for a "speedy" catheterization. SpeediCath catheters by Coloplast are also a safe choice. They are not made with DEHP, natural rubber latex, or phthalates.
The SpeediCath Family of Catheters
The SpeediCath Standard catheter is ready to use right out of the packaging when you need to catheterize. It has a hydrophilic coating that makes this catheter well-lubricated, slippery, and comfortable from insertion to removal.
The SpeediCath soft is the most recent addition to the Coloplast portfolio and is slightly softer than the original SpeediCath. This straight-tipped catheter is 13-inches in length and made of Polyurethane material that is pre-lubricated and ready to use. The SpeediCath Soft catheter features a hydrophilic coating for smooth insertion, polished eyelets, and a soft, flexible gripper to ensure a firm hold to make insertion quick and easy without touching the tube or tip. Convenience matters to users of intermittent catheters and the SpeediCath Soft Hydrophilic Male Catheter does not disappoint with its ease of use the first time and every time.
The SpeediCath Flex Coude Pro catheter is a male, standard 16-inch length. This ready-to-use, flexible coude catheter is pocket-sized and offers a convenient and discreet way to catheterize with easy-to-open packaging, even for those with limited dexterity. The SpeediCath Flex Coude Pro catheter allows for a completely touch-free catheterization experience with its dry sleeve that surrounds the catheter from top to bottom. The flexible and soft tip of the catheter helps to bypass any strictures in the urethra and the hydrophilic coating reduces friction.
The SpeediCath Compact Set is an all-in-one solution available to both men and women. This hydrophilic catheter is the only compact catheter with an integrated collection bag currently on the market and is ready to use right out of the packaging. It is small enough to keep in a pocket or purse and includes an easy-grip handle for a touchless catheterization.
The SpeediCath Compact Male catheter is the most compact catheter for men. Its telescope design makes it about half the size of standard catheters and the easy-grip handle provides a touch-free catheterization experience. The catheter is packaged in its own sterile saline solution so it is optimally hydrated to be well-lubricated and comfortable during catheterization.


We at Personally Delivered are proud to be a partner with Coloplast. If you have any questions about SpeediCath catheters, our dedicated, knowledgeable, and compassionate Product Experts are just a phone call away and ready to help. Contact us using this form or call (800) 777-1111.